F-1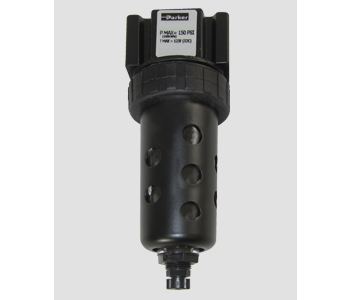 Features
This Parker compact series compressed air filter is designed to
remove water and solid particles from your compressed air
system prior to air entering the AB-CO PURGE purge and
pressurization system. The polycarbonate bowl resists grease,
oil, detergent, and most inorganic acids and has high impact
resistance. It is rated at 40 micron for contaminant and particle
reduction. The filter's unique deflector plate with shroud makes
the air stream swirl thus ensuring that water and dirt are
effectively separated. The filter is suitable for manufacturing
process environments.
Compact Configuration (H = 6.27" x W = 2.74")
1/4" F-NPT Port/Connection
1/4" F-NPT Port/Connection
Pressure Flow Rate: 53 SCFM (Standard Cubic Feet/Minute)
Temperature Rating: 32°F - 125°F
Polycarbonate Bowl with Metal Bowl Guard
Large Filter Element Surface for Low Pressure Drop and Increased Element Life
Manual Twist Drain Style
Pressure Flow Rate: 53 SCFM
Click to view the F-1 Data Sheet