The Model AP-01Z-02 with side vent works effectively
on a small, 0.5 cubic ft. enclosure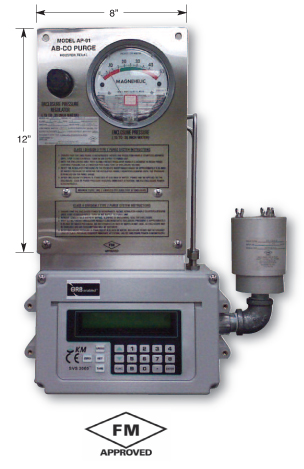 Even the smallest electrical enclosures can be protected just as effectively as larger ones… AB-CO PURGE has the answer.
The small size of the AB-CO PURGE Model AP-01Z-02 unit makes it ideal for mounting to small enclosures such as the one shown. Ruggedly constructed of a 316 SS control panel and . inch O.D. 316 SS tubing, the Model AP-01Z-02 is a Z-Type system designed specifically for small electrical enclosures with volumes up to 2 cubic feet (0.056 cubic meters). For more information, or to request a technical data sheet about this unit, as well as other AB-CO PURGE units,
contact us on our website or call us at 716.500.ABCO.
Benefits
• Reduces classification in a hazardous environment from Division 2 to unclassified
• Cost effective solution
• Extends equipment life
• Reduces heat build-up
• Eliminates dust containment
• Prevents moisture and corrosion

 Click to see, or download, the HiLite Sheet for this Application