AFP-02Z-75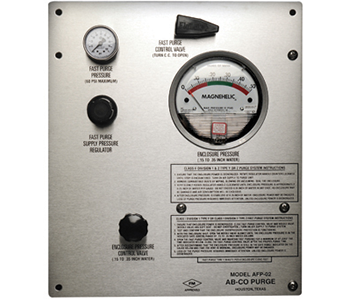 AFP-02Z-75
The AB-CO PURGE Model AFP-02Z-75 Purge and Pressurization System is a Z-Type system designed specifically electrical enclosures with volumes up to 75 cubic feet (2.12 cubic meters).  As a Z-Type purge and pressurization system, the Model AFP-02Z-75 reduces the classification within the electrical enclosure used in a Class I, Division 2 (Groups A,B,C,D) and Class II, Division 2 (Groups F&G) hazardous environment from Division 2 to unclassified.
It supplies the enclosure with the proper amount of inert gas or clean instrument air which removes flammable gases and prevents the accumulation of ignitable mixtures within the respective protective enclosure.  In addition, this AB –CO Purge system is a very economical way to place unclassified equipment into a Division 2 hazardous location.  The Model AFP-02Z-75 regulates and monitors the continuous flow (0.5 to 40 SCFH) of inert gas or clean instrument air into the electrical enclosure which can eliminate problems like heat, moisture, dust and corrosion within your enclosure.   The purge and pressurization system features a standard fast purge safety feature which will exchange four volumes of inert gas or instrument air in times consistent with NFPA 496.  The times are indicated on the front control panel.
This unit is ruggedly constructed of 316 SS control panel and 3/8- inch O.D. 316 SS tubing.
It is also supplied with a vent (Model AV-2BG) that is used with the integral relief valve.  If required, an optional explosion proof pressure switch (Models DP-1A, DP-1B, or DP-1C) is available which can provide either audio and/or visual indication of a loss of purge (see details on specification section of this data sheet).
A heavy gauge stainless steel universal mounting bracket,  a 3/8-inch tube fitting for the cabinet, and an enclosure warning label are supplied with this unit.  The installer is responsible for providing the 3/8-inch tubing from the Model AFP-02Z-75 to the electrical enclosure.
This unit is certified by UL and approved by FM to meet the NFPA 496 Standard (Standard for Purged and Pressurized Enclosures for Electrical Equipment).
Note:  See Model AFP-01Z-15 or Model AFP-03Z-300 for Z-Type purge systems designed for smaller and larger size enclosures.


Click to view the AFP-02Z-75 Data Sheet
Click to view the AFP-02 Installation & Operations Manual